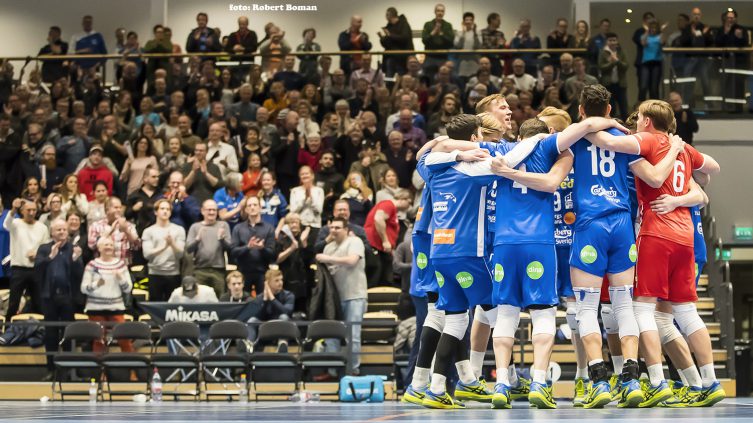 The annual Publikmatch in Falkhallen is one of the highlights of every FVBK season. Tonight was no disappointment. 888 fans were treated to an exciting match with plenty of high quality volleyball that will hopefully have them coming back for more as we soon move into playoff season.
FVBK 3 – 0 Hylte/Halmstad (25-23, 25-20, 25-22)
Going into tonight's match, and with only 2 matches left in the regular season, FVBK was in a position where they basically needed to take points against their final two opponents, Hylte/Halmstad and Linköping. With tonight's 3-0 victory over H/H, FVBK remains 2 important points ahead of Sollentuna to maintain 3rd place in the series, with one match left to play.
FVBK started off the match in a nice rhythm. There was energy in block/defense and reception was delivering good balls for setter Victor Nielsen to work with. Libero Edvin Swärd did a great job with some of H/H's heavier spin serves. Reception numbers was the biggest difference between the teams in the first set. FVBK lifted 65% perfect and 80% positive while H/H was at 36%, 68%. Those aren't horrible numbers but it was enough to give FVBK a few extra transition opportunities. Opposite Lucas Candido was en fuego today and converted most of those transition chances into points. Lucas, who was named Player of the Match, scored 6 points in the first set alone, but even more impressively scored on 17 of his 26 attempts in the match!
FVBK had a comfortable lead in the first set 20-14 that got quickly eaten up in a bad rotation. H/H actually led 20-21 before FVBK could side out on a Lucas spike to even the score 21-21. FVBK regained the lead on a Faeez attack 22-21. The teams played ball for ball until Johan Mårtensson spiked a ball into the antenna to give FVBK 25-23 and the important first set.
Most of the second set was very well played. Both teams produced even better reception numbers and kept unforced errors to a minimum. The lead changed hands a few times during the set but with neither team ahead by more than 2 points. At 19-19 however, H/H's Philip Pettersson missed a serve which led to FVBK being able to push the lead and play out the set all the way to 25-20! Faeez scored 4 of the home team's last 5 points.
The third set started off with a series of attacking misses from the home team giving H/H a 5-1 lead. An early timeout seemed to put FVBK back in a rhythm that resembled the play from earlier in the match. FVBK's blocking game went to work during this period of the set. First Johan Gruvaeus got one, then Victor and then Pedro. The score was tied again at 11. Lucas stepped up during the following part of the set, scoring the next 5 points for his team. There was plenty of crowd-friendly volleyball during the match and several of those balls came during the third set. We saw strong efforts in block touches as well as players sacrificing themselves in defense. It showed that every ball mattered, just as one would hope in the Battle of Halland and Publikmatch. The teams played evenly up to 23-22. A Victor Lindberg serve miss gave FVBK their first match ball which then finished on an August Borna-Pedro Mendes block against Hylte's opposite.
Tonight's performance was FVBK's best since the new year. On top of that the match had a playoff-like character which I hope the TEAM will be able to take with them into the coming weeks. Before we get ahead of ourselves however, FVBK travels up to Linköping on saturday for the final match of the grundseries. FVBK needs to take one point versus LVC to guarantee third place, otherwise we will need help from H/H who plays Sollentuna on sunday in Hyltebruk. Stay tuned!
– Coach PA
Next match:
Linköping – FVBK, lördag 10 mars kl 16:00, Linköpings Sporthall
http://elitserienvolleyboll.se/wp-content/uploads/2018/03/bild-nr-47002-Boman.Robert_2018-03-08-resize.jpg
843
1500
Falkenbergs VBK
http://elitserienvolleyboll.se/wp-content/uploads/2016/11/Logoheader-1.png
Falkenbergs VBK
2018-03-09 01:13:45
2018-03-10 00:12:22
Falkenberg triumferade inför storpublik