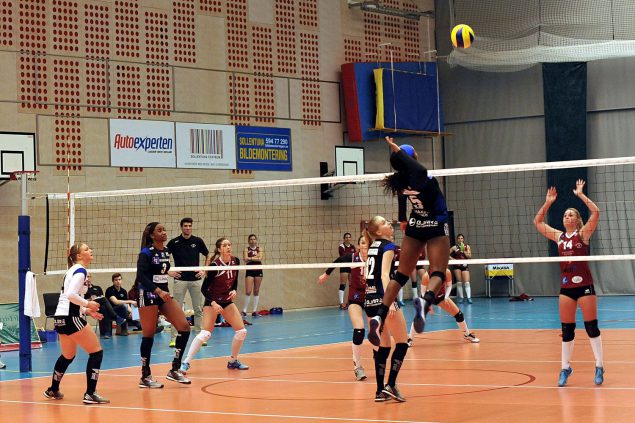 On Saturday February 11th Sollentuna met Elitserien leader Engelholm. Although Sollentuna had the home court advantage they started off the first set slow and were unable to catch up to Engelholm.
The first set ended with a 10 point difference as Engelholm took home the win 25-15. Engelholms Carnae Dillard was the scoring leader of the set finishing with 6 points. Although Sollentuna trailed throughout the set they out blocked Engelholm 3-0.
The second set started a bit better for Sollentuna as they stayed with Engelholm early on. The score was tied up at 8-8 until Engelholm came back with 6 unanswered points. Sollentuna was unable to materialize a long enough run and finished the set 15-25.
The third and final set was taken by Engelholm as Carnae Dillard once again led the set in points with 7. Engelholm continues their reign at the top of the elitserien as they gathered 3 more points this weekend.
Players of the game were recognized for both teams. Sollentunas Anita Nosjö and Engelholms Arica Nassar received the honors. Sollentuna has turned its attention to the next match as they prepare to take on RIG Falköping on Sunday February 19.
Matchfakta:
Sollentuna – Engelholm 0 – 3 (16-25, 15-25, 14-25)
Publiksiffra 113
Bästa poängplockare i matchen:
Sollentuna
Falck, Isabelle 9
Nordström, Viktoria 6
Engelholm
Vander Ploeg, Janae 16
Dillard, Carnae 16
Skribent: Charlotte Harris
Foto: Robert Engström
http://elitserienvolleyboll.se/wp-content/uploads/2017/02/16731959_10154274796026304_1478182347_o-web.jpg
1000
1500
Sollentuna VK
http://elitserienvolleyboll.se/wp-content/uploads/2016/11/Logoheader-1.png
Sollentuna VK
2017-02-13 20:16:43
2017-02-19 19:36:59
Sollentuna fell against leader Engelholm